beldan sezen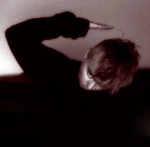 beldan sezen (1967, germany), a freelance artist based in amsterdam. once finished listening to the sound of coffee, judy garland or gil scott-heron (flavor of the year), she uses drawing, collage and text to create both independent drawings and comic scenarios.
anger, humor, and curiosity give me impetus to my work. that, and literally sticking out my tongue to all of those contemporary concepts of culture, ethnic, beauty, body and gender.
her work has been part of solo- and group exhibitions in amsterdam, london, berlin, wiesbaden, beirut and aleppo.