nancy tobin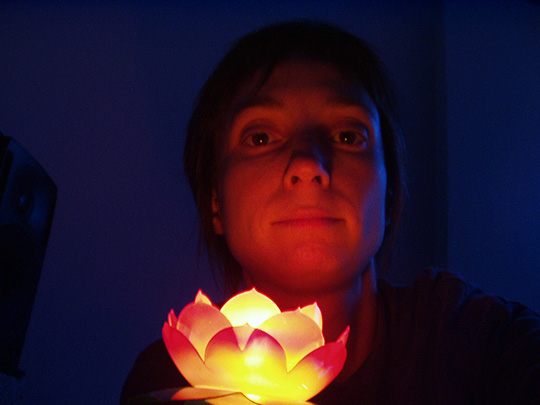 nancy tobin
nancy tobin is an audio artist based in the st-henri neighbourhood of montreal. her sound designs for dance and theatre productions have been part of the festival transamériques, the world stage festival, the festival d'avignon and the edinburgh international festival. tobin has, in her twenty years of experience, developed a specialization in vocal amplification for theater and is known for her distinct style using unusual loudspeakers to transform the aural qualities of her compositions.
in performance and sound improvisation, tobin collaborates regularly with turntable sound artist martin tétreault (duo této, the turntable quartet and the superheart perfomance). her solo work includes commissions for the group artificiel (musée d'art contemporain de montréal), and curator eric mattson (mutek festival and other special events). her current performance instrumentation consists of electromagnetic transducers, vintage tone generators, and small speakers. in 2007, she formed bêtes nocturnes an open collective improvising live on the idea of sounds of nature at night.
tobin's published works focus on 'the present': to be completely invested in a moment. she pays particular attention to notions of concentration and deceleration. as a web artwork, restarea (2000) is a metaphor for the american highway rest point; it is transposed onto the web where she invites the user to decelerate the pace. restarea retains its power to incite the viewer to pause–today–as it did more than ten years ago. restarea was part of a group exhibition in 2001 at the new museum of contemporary art, new york city, and received the 'excellent artist' mention by the machida city museum of graphic arts, tokyo, 2001.
tobin's compositions for cd are also minimalist; the tracks are of long duration and rely on confined instrumentation. ouverture (2007), 19:22 min, is made solely with small brass chimes. their rich harmonic resonance is practically inaudible. delaytoys-berceuses (2009) is a work in which a series of toys from the 1970-80s comprise the entirety of the instrumentation. this project was developed during a 5-year period. the concepts of deceleration and concentration resurface, this time focusing on memory and childhood, placing them at the heart of the creative process. meditation, for instance, was practiced to stimulate the recovery of early memories and trigger compositional ideas.
expire 20-04-2011 is a hybrid performance-audio installation exploring endurance, slowness, and perpetual obsolescence. this work was performed for approximately 73 hours in april 2011 at the fonderie darling of montreal.